Embroidered shawls
---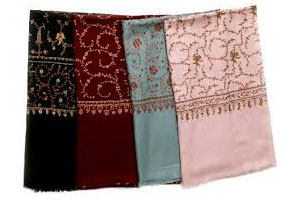 Indian embroidered shawls are beautiful examples of Indian art and crafts. These shawls are colorful wrapping options. The unique colors and designing of these shawls are being admired by people all around the World. Skilled Indian craftsmen produce thousand of these shawls every year. These shawls are highly in demand because of their appealing look and feels. Embroidered shawls are available in many patterns and can be worn with any kind of apparels. Handcrafted shawls are also being designed by many Indian craftsmen. Shawls with heavy embroidery work can transform a simple outfit into a fabulous and stylish attire. Silk, cashmere, pashima and many other embroidered shawl options are present in the market. These are fashionable winter wrappers which can embrace your beauty and make you stand out of the crowd. Use of colorful treads make them further more attractive. Flowers, leaves, geometrical figures, peacock, etc are some of the most common forms of designs present on Indian embroidered shawls.
Product Highlights:
Pleasing designs
Available in variety of fabrics and patterns
Can be worn with both western and traditional attires
Unique and attractive
Embrace the beauty of a dress
Stylish and fashionable winter wrapping option.