Sextants
---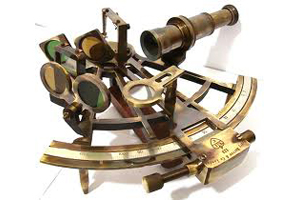 Sextant is an instrument used for measuring angles between two visual objects. Sextant is basically a navigational instruments used to measure the angle of elevation of celestial bodies (the Sun, Moon, Stars and other similar bodies). These angles are being calculated to get an idea of the location and direction of a navigating body. It also an optical based instrument with two mirrors, one eye piece, a telescope, an arc shaped scale and other structural materials. With the development of navigation satellites which leads Global Positioning System(GPS), over took the usage of sextant as the signals received from satellites and their interpretation provide direction and other information. Sextants of all time were majorly made up of different varieties of brass. Apart for navigational usage, sextants are being used as antiques, showpiece and decorative items. Sextants with designer bases, frames and box are even act as a gift item as well. Sextants look very classy and attractive when placed in an office cabin or in a living or study room. This instrument looks very interesting because of its unique design and structure.
Product Highlights:
Use to measure angle between two objects
Known for accuracy
Usually made up of brass
Work as an antique showpiece and gift item
Available with designer boxes, frames and bases
Perfect deco for an office cabin, study room or living room.