Sundials
---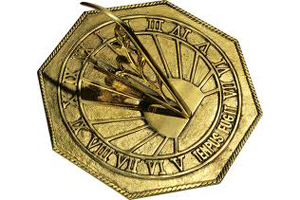 Sundials are the structures which indicators time, according to the position of the sun. Sundials were used earlier in the absence of watches to have some idea of the time with the help of the sun's movement. Sundials are placed outdoor under the sun and according to the shadow created by sunlight, the time was assumed. These were of prime importance in the initial periods, when there was no watch. In the current time, many people put sundials in their gardens, lawns and balconies as showpieces or decorative items. Sundial adds royal or classy look to a garden. These are available in a variety of styles and materials. Stone, iron, brass and bronze are some of the materials commonly used in making sundials. The reason of using these materials, is the durability offered by them. As sundials are always exposed to outside weathers, them should be made up of strong materials. Sundials are antiques and very eye pleasing and attractive. Though it don't have any technical value now but its adds a sense of art and creative to your garden. You can get variety of sundials in Indian handicrafts designed in unique designs.
Product Highlights:
An amazing example of ancient science
Antique Garden accessory
Attractive and creative
Available in variety of designs, materials and sizes.