Modern paintings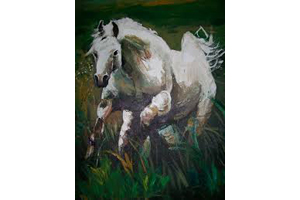 Modern paintings are exotic offering of art and imaginations. These painting are unique in both designs and creations and can enhance the over all look of a room, restaurant, office or reception area. Modern paintings are famous for the eye pleasing experiences that they serve their viewers with. These paintings add different values to different locations and have different meaning for different people. For some these are a source of art enjoyment and for some these are just a way of decorating a particular area or portion. No matter for what reason you buy them, they a complete dose of visual satisfaction.
There are various types of modern paintings including abstracts art, conceptual art, photorealism, surrealism, etc. Modern paintings make use of both vibrate and simple and light colors. The trends of modern painting tend to change according to the taste and preferences but their demands and appreciations are a never ending process.
Adds visual pleasure to a room and enhance the room's ambiance
Have great creative values
Created with the use of various types of bases and color
Oil painting and other unique painting techniques are used.
Indian modern painting are famous for their unique designs and appearances.
Quite large in demand and act as a good investment.