Handicrafts Cabinets
---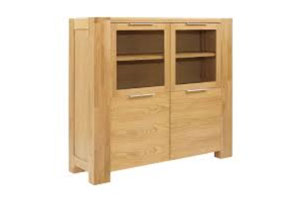 Cabinets are closed storage options. These cabinets usually have good holding capacity which are used for keeping a variety of things and to ensure an organized outer look. Cabinet are majorly being employed at kitchens for storing kitchen items in an stylish and visually appealing way. Apart from kitchens these cabinets are being used in offices for storing files and other documents. Handcrafted cabinets come in an array of materials, finishes and styles. The selection of the cabinet material should be done according to your budget. Laminate, woods, metals and glass are the most common materials used for making cabinets. Laminate are multilayer kraft papers, these are the least expensive. Wooden cabinets fell in medium cost category. Metal cabinets are quite expensive but offer more durability. Cabinets help in storing things in an organized and systematic way. These cabinets are available in both modern and contemporary designs and in countless hues.
Product Highlights:
Organized way of storing things
Easy to install
Perfect for kitchen and office
Stylish and good looking
Available in different range of prices
Available in variety of sizes, designs, colors and materials.