Polearms
---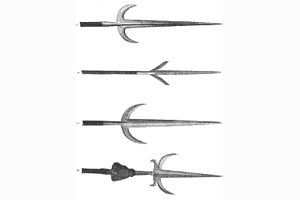 Polearms are one of the ancient weapons which were used by the soldiers during wars. Polearem are the long sticks with main sharp weapon attached at the end of the sticks. The sticks are mostly of woods and the sharp parts were made up of steel, iron, copper or brass. The long arms of polearms help in improve the striking power. Polearms were also used by the ancient armies of Indian civilizations. These are easy to make weapons and not much durable because of the use of woods as sticks. These were close combat weapons and used as complimentary weapons only.
Polearms have no such value as a weapon in the current scenario. These are merely used as antique showpieces by many people to add a theme of royal rules or ancient times to a room. Polearms are also vastly used in movies, dramas and other productions where the recreation of ancient time is being done. Polearms are an excellent example of hand made weapons and human craftsmanship.
Products Highlights:
Long weapon with main hurting element attached at one end
Hand held and easy to carry
Close combat weapon
Use as antiques
Used in movies, dramas and other recreations of older times.