Mirror Frames
---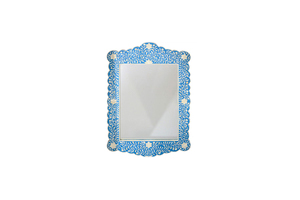 Unique and antique mirror frames can multiply the beauty of a simple mirror and result in extra-ordinary looks. Handcrafted mirror frames are available in varied colors, shapes, designs, finishes and textures. You can select the one reflecting your style and taste and can go either for some modular frames or traditional ones. Make the selection according to the look or theme that you want your mirror to have. These frames are simple and cost effective decorative elements that further applied to enrich the look of a mirror. Woods, copper, brass, steel, glass and fiber glasses are the materials mostly used for making appealing and attractive mirror frames. Golden, brass and silver are some of the highly preferred colors because of the classy finished offered by these. Mirror frames are highly applauded owing to their easy installation and durability. These frames are excellent wall decorative options and offer rich and classy look when applied to big or large mirrors.
Product Highlights:
Enrich the look of a simple mirror
Easy to install and durable
Available in countless designs
Traditional and handcrafted frames look exotic and antique
Stylish way of increasing the interior beauty of your house.