Wooden Sculptures
---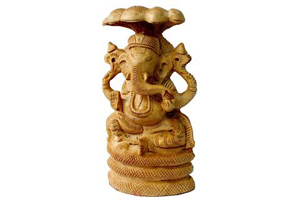 Wooden Sculptures are another form of Indian art which serves the beauty of Indian craftsmanship. India posses a variety of wooden sculptures because of the numbers of trees and wood available in the country. Most of the wooden sculptures in India are inspired by the local cultures and traditions and follow different carving techniques. Wooden sculptures are one of the important part of Indian handicrafts. Kerala, Tamil Nadu, Assam, Andhra Pradesh, etc. are some of the states famous for wooden art work in India as most of them are located near forest areas and have assess to varieties of wood. These sculptures can be used as decorative items or showpieces. Wooden sculptures are visually very appealing and can act as eyes catching material. There are some specific tools and knifes that are being used for creating wooden sculptures. The selection of tools dependent upon the type of wood used in sculpture. For example, Basswood is a soft wood so even a small knife is enough to make a wooden sculpture for basswood but if there will be a hard wood, like walnut wood,then different tools will be required.
Product Highlights:
light in weight as compare to metal and marble sculptures
large varieties of wood to chose from
Great variations of size and designs
Can be used as decorative or showpiece items
Usually have long table value
Unique, creative and innovative form of wooden art.