Traditional Paintings
---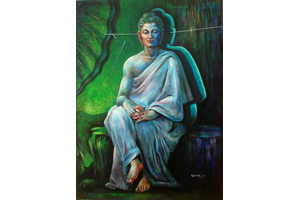 India have a rich source of traditional paintings. Traditional paintings are the paintings created by the use of traditional techniques and materials and depicting the traditional practices, values, beliefs, events of various cultures. India is quite rich in the number of cultures and traditions , so it posses a variety of traditional paintings. These traditional prints have get cultural and artistic values and offer eye pleasing varieties of Indian traditional paintings. Some of the famous types of Indian traditional paintings includes:
Mughal paintings:
Mughal paintings came in existence during Mughal rule over India. These paintings usually depicts the royal livings of the Mughals, count scenes, battle scenes, hunting etc. The bold use of colors are generally seen in Mughal paintings.
Madhurai paintings:
Madhurai paintings usually offer good visual treats to its viewers. The reason behind the is the use of vibrate and strong colors and quite dense designs. There is usually no blank space left in Madhurai paintings. They are very famous and eye pleasing.
Mysore paintings:
Mysore paintings had its origin in Mysore, Karnataka. Many of the Mysore paintings are inspired Hindu mythology and depict similar scenes and images. Mysore paintings are famous for their muted color and special attention on details.
Tanjore Paintings:
These paintings famous for their compositions. The entire look or view of tanjore paintings are rich and overwhelming. Vivid and bright colors and surface richness are other features of Tanjore paintings.
Warli tribal paintings, Batik paintings, Kalamkari, Pattachitra etc, are some of the other famous types traditional paintings in India.
Traditional designs and over view of Indian cultures.
Each type of traditional paintings are very different from each other.
Great examples of Indian arts and Indian handicrafts.