Batik paintings
---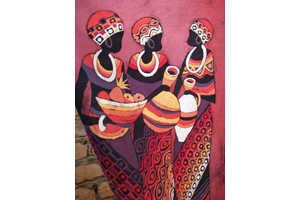 Batik is an art of designing fabrics by using wax. The development of batik paintings can be traced in Indonesia, where this art have its origin. Java is the place in Indonesia, which is famous of batik painting. The meaning of word batik came from the javanese word 'tik' which means to dot.
The uniqueness of these paintings is the technique which is used to development.
In the process of making a batik painting, wax is used to create designs or cover that portions of cloth which the artist don't want to get colored in the shade of the dye. The wax work as a dye resistant. After going through the dying process the wax on the cloth are removed. If the artist wants to add more colors or design to the painting he repeats the process of applying wax and dying by covering another portions with wax. The quality of the wax effect the overall look of a batik painting. The two most commonly used waxes for batik paintings are Paraffin and Beeswax. Silk and cotton are the two widely preferred fabrics for batik paintings because of their high thread densities. The Creation of a batik paintings is a long and time consuming process because the artist have to go step by step, and the dying and wax applying and removing process is not an easy job. The cloth of batik painting gets washed and boiled several times before using it for the batik process to ensure the removal of all the unwanted stains or elements that may effect the coloring and designing of batik paintings.
A Traditional form of paintings
Wax are use to create the designs and patterns
Requires perfection and creativity
Unique in both technique and look