Imitation Jewelry
---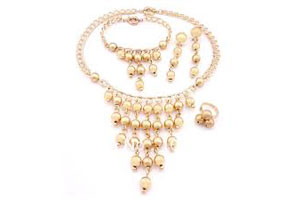 Imitation jewelry are budget jewelry options which are easily affordable. These jewelry are available in unlimited styles and designs. Huge variety of metals are being used for make these jewelry. Semi-precious stones are further being added to enhance the look of imitation jewelry pieces. These jewelry are so cost effective that you can buy a good number of them. Though they are not long lasting and can not be used for regular or daily usage but their low cost allow you to buy different imitation jewelry for each of your dress. These are available in almost every color and both in traditional and modern designs. No matter whether you are going to a marriage, friends get together or formal office meetings, imitation jewelry can embrace your beauty. Good quality imitation jewelry are also available which are durable and can be used for a longer time. Variety of polishes, paint, etc. are further use to make imitation jewelry more appealing.
Product Highlights:
Affordable and very cost effective
Unlimited design options available
low cost allow you to have different imitation jewelry for different dresses
Available in almost all colors.