Printed Curtain
---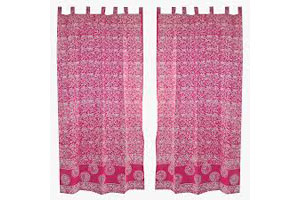 Printed curtains are simple and easy way of decorating any kind of window panels. These curtains are available in vibrant colors and attractive patterns. Printed curtains are available in variety of fabrics from cotton to silk. These easy to apply and washable curtains are often very long lasting. Eye catchy prints and designs make them perfect for decorating your home interior. With the availability of countless designs you can select the curtains suiting the room or window area where the curtain will be placed. For example, for decorating Kids' room, cartoon printed curtains can be the perfect choice where as for decorating your study room, simple or small printed curtains will be more appropriate. Printed curtains add new shades in a room and embrace its beauty. Floral prints are very famous and largely preferred. Printed curtains can be select according to the color of the other furniture in the room or according to the color of the wall.
Product Highlights:
Available in countless patterns and designs
Vibrant colors
Easy to wash and maintain
Available in variety of fabrics and materials
Cartoon, kitchen and other theme based printed curtains are also available.