Battle Axes
---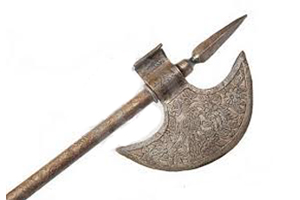 Axes are the weapons with medium length holding stick and shape element attached at the top end. Battle axes were very crucial and effective weapons in the during the earlier wars. Battle axes are available in different styles and designs. There are battle axes with single as well as double blades. This weapons tend to harm the enemy to a great extent. The handle part of the weapon can be made up of woods or metals. The metals which are majorly used for making the blends of battle axes are iron and sleet. Personalized designed battle axes are also available. Battle axes are available in a wide range of weight and lengths. Currently these axes are merely used as showpieces and antiques. Battle axes look very unique and attractive. These axes are also used in movies and dramas. Battle axes shaped toys are also very famous among the children. Battles axes are yet very large in demand.
Product Highlights:
Ancient weapons
Available in different size and length
Used as showpieces also
Variety of designs and style
Toys of similar shapes are also famous.