Marble Fountain
---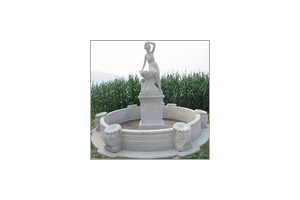 Marble fountains are known for their smooth textures and shiny appearances. Marble is the most widely used material in fountain making. Tabletop fountains, desktop, wall fountains, floored fountains, garden fountains, all these types fountains are available in marble materials. There are various types of marbles used in fountain making including white marble, black marble, yellow marble and brown marble. While buying a marble fountain be very particular about the size and designs. Marble fountains look visually very appealing and royal. Marble stone carving have resulted in having different designing and art work on marble fountains. Marble fountains are durable but less then iron, stone and other similar materials. Marble fountains require more maintenance then other fountains. The weight and the size of the marble fountains should always be keep in mind as more heavy fountains are difficult to move and cannot be relocated easily. The look of marble and the movement of water appears very overwhelmed. Wall fountains do major use of marble as the background of the fountain. The extra finish offered by the surface of the marble often make them more appealing.
Features:
Size ranges from small tabletops to big garden fountains
Smooth and shiny surface
Easy to clean but require proper care
Looks rich and pleasing
Variety of marbles- yellow, white, brown
Marble craving resulting in extraordinary surface designing
Often have lighting system inbuilt.