Flower pots
---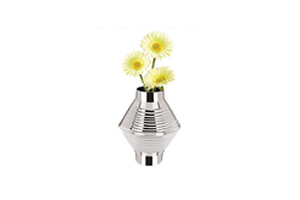 Pots are largely used for outdoor decorations and are loved by garden lovers. Flower pots are beautiful hollow items which can be used for planting various types plants, herbs and variety of flowers. These pots usually carry eye pleasing designing on them which make them more appealing. These pots are perfect to decorate a house entry or balcony or garden. Hanging flower pots can be used for planting small plants and for decorating outdoor areas without taking any floor space. Ceramic, wooden, metal, plastic and fiber glasses are majorly used materials for the making flower pots. These pots provide excellent growing and good looking base to smaller plants. Colorful flower pots can compliment the beauty of a garden or lawn in one of the best way. These pots are very cost effective and are highly durable. These are one of the best ways of adding little greenly and natural beauty even if you don't own or have a proper garden in your house. Flower pots are generally compact in size and can be moved from one location to another easily.
Product Highlights :
Makes garden more colorful and appealing
Compact in size
Durable
Long lasting
Available in variety of materials
Multiple flower pots can be used for growing keeping many plants at one place
Offers greenly to those who don't have garden in their house.