Tribal Paintings
---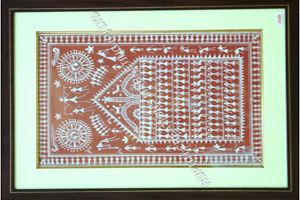 Tribal paintings, as the name suggest are the paintings and arts done by the tribal folk of the country. The visuals and designs offered by these painting are usually very different from those of other kinds of paintings. The designs of tribal paintings are inspired by the cultural, traditional, religious and even geographical elements of the different tribal communities located in different parts of the country or the World. The main feature of these paintings are their are being made by the tribal folks in the hope of very marginal economic profits. The colors and materials used in tribal paintings are also derived from forests and natural elements. Tribal paintings are often done on walls, pots and other clay vessels, masks , fabrics or canvas. The are various types of tribal paintings in India, including warli paintings, pithora paintings batik tribal paintings, etc. Each of these type of tribal paintings have unique features. For instance, the warli paintings are mono-colored or make use of only one color and Pithora paintings are very colorful and make use of vibrate colors. These paintings generally depicts the local beliefs, celebrations or other occasions of the tribal tribes.
Very simple as compare to modern paintings
Use of natural color elements
A description of tribal believes and thinking
Unique designs
India being a home of various tribal communities offers huge variety of tribal paintings
Affordable and reasonably priced because the prices demanded by the tribal artists are very low.